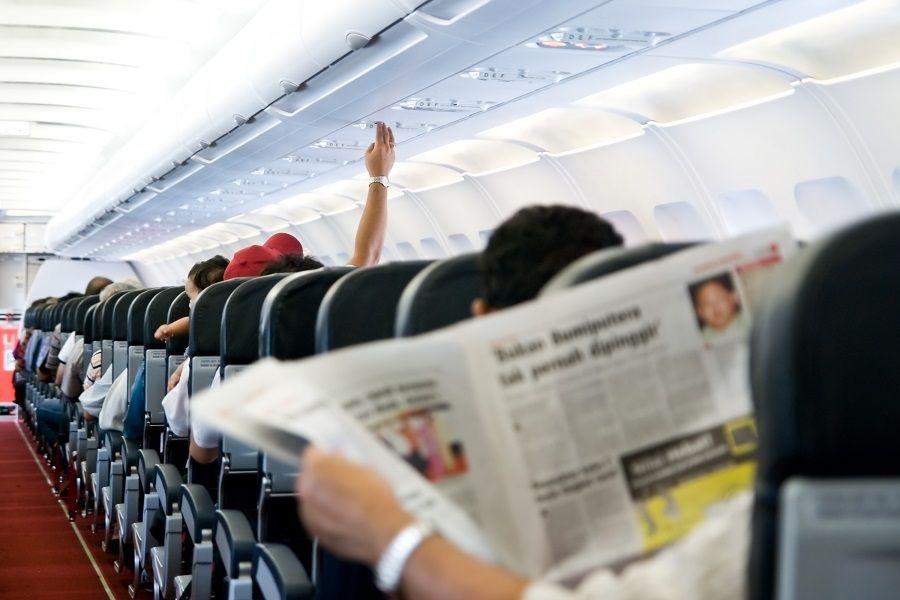 Zastanawiasz się czasem czy w samolocie trzeba mieć zapięte pasy? Kiedy można je odpiąć? Czy w ogóle można?
Sygnalizacja "zapiąć pasy" znajduje się nad każdym fotelem w samolocie. Zapala się ona już na ziemi (przed rozpoczęciem kołowania samolotu ze stanowiska postoju). A po starcie świeci się nieustannie do czasu, kiedy samolot osiągnie odpowiednią wysokość. Kiedy to nastąpi, załoga wyłącza sygnalizację. Co to oznacza? Tylko to, że możesz np. wstać ze swojego fotela i kolokwialnie mówiąc, rozprostować kości. Możesz pójść do toalety albo wyjąć coś z bagażu podręcznego znajdującego się w schowkach.
Co może wydarzyć się w powietrzu? Po co zapięte pasy na wysokości?

​Podczas lotu mogą się zdarzyć turbulencje. Oczywiście o większości z nich załoga wie, dzięki radarowi pogodowemu, kontroli ruchu lotniczego albo od pilotów samolotów, którzy już tą trasą lecieli. W takim wypadku załoga włącza kontrolkę przed zagrożonym punktem. Turbulencje powstają, gdy samolot przechodzi z jednego prądu powietrznego w drugi, przelatując przez chmury przy wznoszeniu lub schodzeniu do lądowania, a także gdy przelatuje nad górami.
Turbulencje w czystym powietrzu

Wiadomo, natura potrafi zaskoczyć. W związku z tym możliwe są tzw. turbulencje w czystym powietrzu. Bardzo trudno je wypatrzyć na radarach pogodowych. Może zdarzyć się, że po wleceniu w nią samolot może gwałtownie stracić wysokość. Wtedy pasy ratują przed urazami. Chronią Cię przed roztrzaskaniem się o ściany samolotu zarówno podczas kolizji z ziemią czy przy przymusowych awaryjnych lądowaniach.
Zagrożona sytuacja może zdarzyć się nawet na lotnisku i to po wylądowaniu

Często zdarza się, że pasażerowie odpinają pasy tuż po lądowaniu. Sygnalizacja "zapiąć pasy" cały czas się przecież świeci. I musisz wiedzieć, że w takim momencie także może się wydarzyć nieplanowana sytuacja. Przykładem może być ta z 11 kwietnia 2011 roku na lotnisku JFK w Nowym Jorku. Samolot, który przyleciał z Bostonu kończył kołowanie, a jednocześnie prostopadle kończył kołowanie największy pasażerski samolot świata (Airbus A380 linii lotniczej Air France). Zahaczył on niestety lewym skrzydłem o mniejszą maszynę, obracając ją jak zabawkę. Na pokładzie mniejszego samolotu znajdowało się 62 pasażerów i 4 członków załogi.
Musisz więc pamiętać, żeby nie wstawać z fotela w trakcie poruszania się samolotu po płycie lotniska. Nagłe hamowanie, wstrząsy czy szarpnięcia mogą być gwałtowne. Chciałbyś, żeby komuś spadła na głowę np. Twoja walizka, którą koniecznie pierwszy musisz wyciągnąć ze schowka?