Prestiżowy konkurs Comedy Wildlife Photography Awards rokrocznie bawi, ale także zwraca uwagę na istotną kwestię ochrony środowiska i problem wymierania gatunków.
Najzabawniejsze fotografie zwierząt
Fotograf przyrody to niewątpliwie osoba z wielką cierpliwością. Żeby uchwycić tak cudowne i wyjątkowe kadry czasem trzeba dni, tygodni, a nawet miesięcy obserwacji. A czasem po prostu szczęścia i bycia w odpowiednim miejscu w odpowiednim czasie. Konkurs Comedy Wildlife Photography Awards pokazuje w zabawny sposób piękno przyrody. Jak to niektórzy określają przyrodę na luzie. Ale to o wiele więcej niż tylko śmieszne zdjęcia.
Pomysłodawca konkursu – Paul Joynson-Hicks zwraca uwagę na niebezpieczeństwo w jakim znajduje się w obecnych czasach dzika przyroda. Nawołuje, aby mieć oczy i serca szeroko otwarte i ją ratować. Motywuje jednocześnie, aby zajrzeć np. na stronę www.bornfree.org.uk i się przyłączyć. 
Tymczasem zwyciężczynią konkursu została Mary McGowan ze zdjęciem przyłapanej na gorącym uczynku wiewiórki.
Zobacz zdjęcia innych autorów, którzy otrzymali nagrody, a także pozostałe fotografie nadesłane na konkurs. Na pewno Ci się spodobają! Zgłoszenia do kolejnej edycji będzie można nadsyłać już w marcu 2019 roku.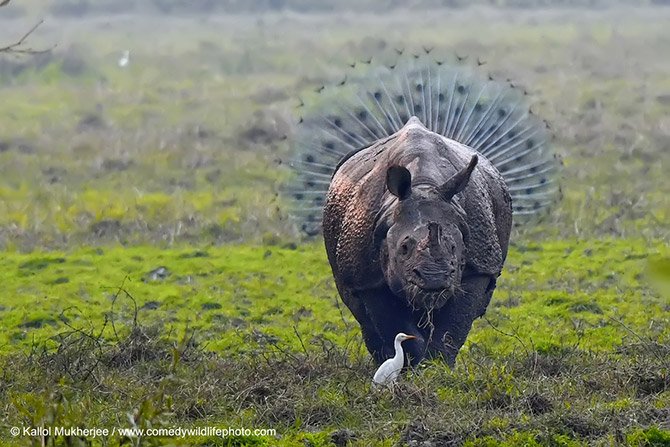 Mało? Nam też było mało. Dlatego pokażemy Ci jeszcze kilka nadesłanych do konkursu zdjęć. 
A jeśli jeszcze nie masz dość, więcej zdjęć zobaczysz na stronie konkursu.